Why Rush Bowls?
Rush Bowls is a proven concept, pioneering the acai (and other) bowl market since 2004, when Founder and President Andrew Pudalov left a successful career in New York City's financial sector to pursue his passion for healthy living.
Born in Boulder, CO — Rush Bowls is the perfect example of a truly healthy food franchise concept. Our bowls are crafted from only all-natural ingredients and delicious proprietary recipes featuring fresh fruit topped with granola & honey. Healthy conscious consumers can feel good about the food they fuel themselves with, and you can feel good about supporting the wellness of your community, and your bank account.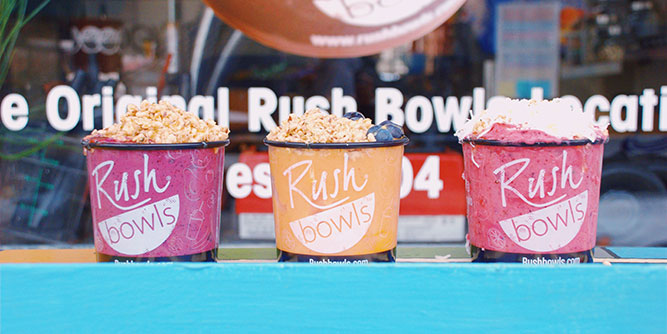 Join Rush Bowls Obsession for Serving Sinfully Delicious and Healthy Food
Pack all-natural fruit and other healthy ingredients, blend it extra thick and serve it in a bowl topped with granola and a drizzle of honey and what do you get? Rush Bowls. These freshly made bowls cater to the rapidly growing demand for all-natural meals on the go, sought out by millennials, students, moms, athletes, professionals, really, anyone who wants to eat healthy good-for-you food.
SURGING INDUSTRY - Rush Bowls taps into three industries; The $1 TRILLION health food industry; $500 MILLION acai berry industry and the $384 MILLION health-focused fast casual industries.
STRONG ECONOMICS - By combining a uniquely delicious and healthy product, with an incredibly efficient business model focusing on low overhead, you'll have yourself one healthy bottom line.
SIMPLE OPERATION - A concept without hoods, ovens or grills; just blenders and a freezer! You can enjoy the revenues and stability of the restaurant business, without the headaches!
OUTSTANDING SUPPORT - We invested in an experienced team of franchise support professionals, offering an unparalleled guide to ensure our franchise owners are successful. We have a full team ready to support your growth.
FLEXIBLE FOOTPRINT - You don't have the expensive build-outs, the high overhead or have to deal with the complexities of a traditional dine-in restaurant. Our model is simple to setup, easy to run and can be supported by a small staff.
LOW COST INVESTMENT - Our very flexible footprint, small equipment package and simple operation should result in an investment of between $150k-$250k for a storefront; non-traditional sites (RUSH BOWLS "Express") could be less.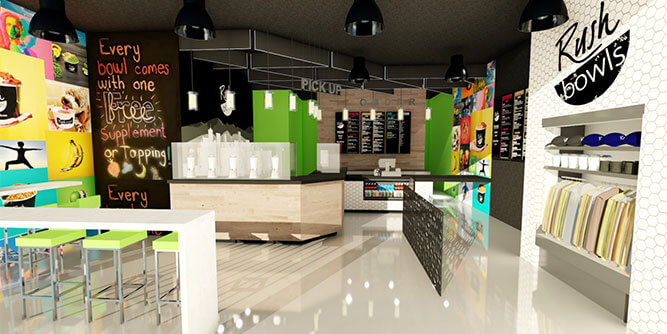 We foresee these seismic shifts affecting RUSH BOWLS franchisees in positive ways. Some long term; others more temporary.
SOCIETAL (likely long term) - Even more attention paid to personal health which, by extension includes healthier eating;
Greater demand for "grab 'n go" products, which has been the RUSH BOWLS method of serving since 2004;
Reversal back to SO/HO (small office/home office) in neighborhoods, away from dense office environments.
We recommend sites less than 1000 square feet:
near Universities, Community Colleges or large high school campuses.
in regentrified areas – like where we opened in downtown Detroit.
near hospitals or medical centers;
areas with high activity, like beaches, ski resorts, tourist attractions, transit centers and sports facilities.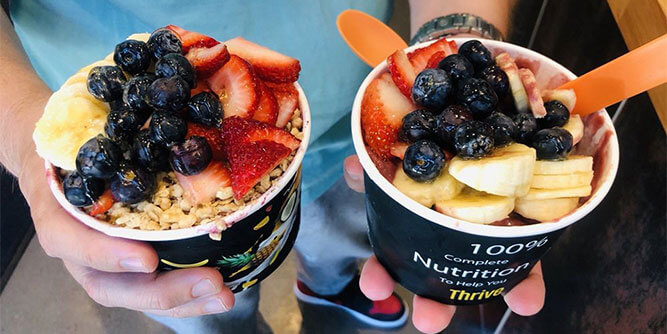 Ideal Candidate
"Pioneers"; men and women who live active lifestyles and are passionate about health and wellness, but also know what it means to be a part of an emerging brand. Restaurant and food service experience a plus, but not necessary. We look for people who've built teams, can identify with millennials, and have the ambition to go out into their communities and "shake hands and kiss babies" to build the RUSH BOWLS brand.