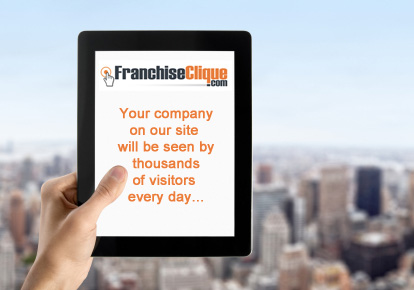 To learn more about our advertising and marketing opportunities, please download our Media Kit below.
For specific pricing and customized programs, please connect with a Franchise Clique Representative.
Why Choose Franchise Clique
Franchise Clique is one of the first places prospective business buyers look to find information about top franchises and business opportunities for sale. Our mission is to provide the best candidates possible to our customers – that's why we offer the best sales leads in today's market with our exclusive call-verified lead program. Our easy-to-use site gives prospects all the tools and information they need to find your opportunity and actively seek out information to explore the next step in business ownership.
We're more than just a portal, too. We're digital marketing experts and we apply top search engine marketing techniques and have top search engine placements that bring thousands of unique prospects to out site every day: producing results that directly impact the bottom line.
When you partner with Franchise Clique, you'll experience professional customer service and high-end lead quality. Every program starts with a strategy prioritizing your organization's business goals and marketing objectives. The right mix of offers, media, creative and technology increases visibility and converts prospects into viable leads. With us, it just cliques.
Contact us today to learn more about how Franchise Clique can deliver you to the buyers you need to reach your franchise development goals.
Who We Are
Franchise Clique was founded on two concepts: innovative lead technology and determined motivation. With a combined 20 years of experience in the franchise industry, we consider ourselves just as entrepreneurial as the potential buyers we work to connect you with. That's why we're committed to connecting entrepreneurs with the best franchises in the industry, and how we know we can help you grow your business.
We're Marketing Experts
We've mastered marketing so you don't have to. Let our team of experts generate top-quality leads for you so you can focus on what you do best: selling. For more information, see our Media Kit and Sample Lead below. To learn more about current pricing, call us at (877) 252-2340 or send a request to info@franchiseclique.com.
Media Kit Samples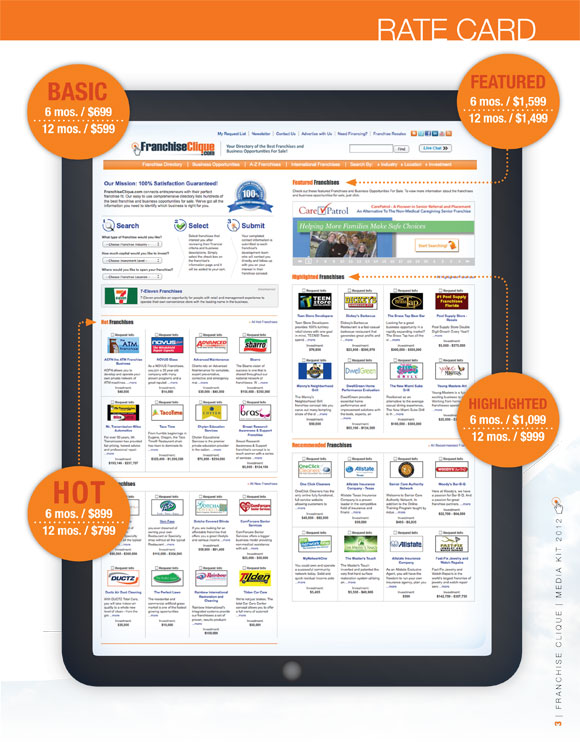 Sample Lead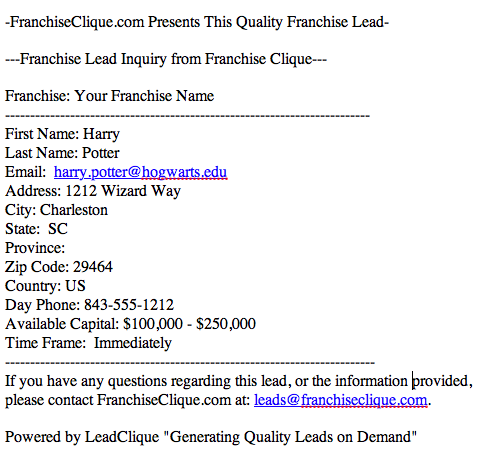 Testimonials
I am the owner of The Back Massager (Vending Massage Chairs). We have been in business since February 2008. We have been with Franchise Clique since March 2009. I would like to thank all the staff of Franchise Clique for all your support and guidance over the past 2 years. Your leads have been outstanding we are very satisfied with the quantity and especially the quality of leads you have provided.

FranchiseClique is a great resource for our lead generation. We have found that FranchiseClique is innovative in their approach to lead generation and we are excited that it produced two new franchisees for 360clean in the Fall of 2011. We look forward to more franchisees from our relationship with FranchiseClique.

"FranchiseClique is a great resource for our lead generation activities! Beating other franchise portal sites we have tried in the past, we are quite pleased with our cost per lead and conversion rates. Its no accident that Franchise Clique is outperforming other lead gen tactics. Their desire to provide outstanding service and quality leads is clearly apparent in the results."


- Jim Brown, Franchise Marketing Director, Quiznos

"We are very pleased with the franchise lead results we receive from Franchise Clique. Their professionalism, responsiveness and service are exceptional, and are far beyond the norm. They continue to surpass their competition, and we will continue to recommend their exemplary WEB lead services to all we come in contact with. "


- Gary G Scheidt - President, Confident Marketing Solutions

Just a comment on your site and the results to date. When you first called, I brushed you off because we are on many sites at present, and really didn't think we needed ONE more. I guess it was your way of promotion of your site, AND AFTER looking AT your site we became clients.