Pioneers in the Window Cleaning Business, Squeegee Squad® Had Persevered and Played an Integral Role.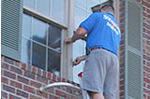 Squeegee Squad is the premier franchise opportunity in the $94 billion (and growing!) contract cleaning and maintenance services industry. Our niche market is unique, huge and our repeat customers include homeowners, builders, businesses, management companies, realtors, and homeowner associations, churches, and schools. Our focus is on middle to high end residential customers who want great cleaning service done with great customer service and can use a variety of services which our franchisees can offer to their customers.


A Squeegee Squad franchise is:
A low-cost, home-based business start-up
No land or buildings, retail storefront, inventory, consumables or receivables
Your opportunity to build a real business…
Every day we serve our customers is a day that we get paid!
Our advantage is providing our franchisees with a proven system of doing business supported by our turn-key, proprietary "SQUADWARE" business management software, an exclusive, protected territory, use of our trademarked "Squeegee Squad" brand name and the ability to run an all year long business through our "Home Services" (Gutter cleaning, home, building & deck pressure washing, chandelier and light fixture cleaning, holiday lighting and snow plowing) service offerings!

Building on our history of success, Squeegee Squad founders Joe & Jack Ruegsegger are committed to building a national franchise system by making the Squeegee Squad franchise opportunity available to entrepreneurs like you.


Our investment ranges from $ $40,000-$50,000, including a $19,900 franchise fee, subject to territory size.


We are pleased to announce the opening of our newest Squeegee Squad franchises :

Squeegee Squad is pleased to announce the opening of our newest franchisees in Tampa, FL; Omaha, NE; and Atlanta, GA, Fargo, ND, and Des Moines, IA ! We are proud to serve other markets including: Minneapolis, MN, St. Paul, MN, Alexandria, MN, St. Cloud, MN, Brainerd, MN, Milwaukee, WI, Grand Rapids, MI, Orlando, FL, West Palm Beach, FL, Naples, FL, Dallas, TX, Bentonville, AR, San Antonio, TX, and Chicago, IL!