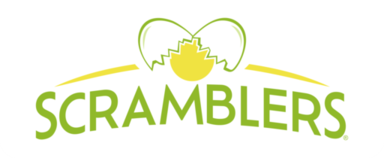 Since Scramblers began franchising in 2005, the brand has grown to 27 stores throughout the Upper Midwest. More than 10 years after we launched our proven business model, Scramblers remains driven by visionary leadership, a commitment to making every customer a regular and to a culture that seeks to ensure our franchise owners are profitable. We are dedicated to supporting our franchisees through every step of their journey to become successful small business owners in their communities.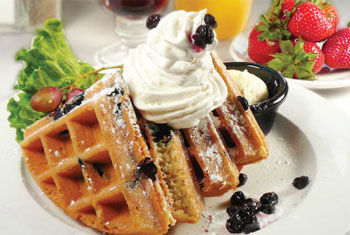 Great Lifestyle
The "breakfast and lunch only" nature of the business offers several key advantages, including:
No nights- The hours of operation are 6:30am to 3:00pm daily. You'll enjoy professional hours and have your evenings free.
Minimizes staffing costs- Single shift labor scheduling allows a maximum 10-hour day, which limits the costs of management, crew staffing and supervision.
Creates a preferred shift for staff, which helps attract a large pool of prospective employees.
Upscale breakfast concept drawing preferred clientele (our target market includes business professionals, women's groups, shoppers, middle and upper income families).
Avoid the problems and alcohol challenges of a night shift.
If you have always dreamed about owning a restaurant that would become the neighborhood favorite...If you're looking for an idea that is efficient and simple to operate. If you've searched for a way to be in the restaurant business for yourself, and still have a life away from work.

Look No Further- The Scrambler Marie's Franchise Opportunity is The Answer
Despite the competitiveness of our industry and challenges in our economy Scrambler Marie's continues to grow. In an industry which is becoming increasingly fragmented, Scrambler Marie's stands out from the competition.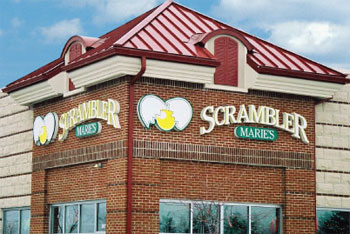 Great Choice
Our menu offerings and the versatility of our restaurants attracts a large audience. Scrambler Marie's restaurants feature:
Preferred product mix for business meetings and power breakfasts
Top of mind awareness for the exclusivity of the breakfast/lunch day concept
Conference rooms
Carry-out orders, specializing in group orders
Facility design that is conducive to breakfast and lunch meetings
Extensive and high-quality full lunch menu, allowing tremendous growth opportunity to build on the established breakfast base and a competitive edge in the lunch market
Design that is suitable for residential, office and retail locations
Tremendous potential for evening opportunities, including parties, banquets and facility rental. Ability to offer private banquet dinners for groups of 25-200 people, which provides you with an additional potential revenue stream
Master Franchising
Scrambler Marie's is actively pursuing growth partnership relationships with multi unit and master franchise developers in the following states: Michigan MI, Indiana IN, Pennsylvania PA, Kentucky KY, Georgia GA, North Carolina NC, South Carolina SC, Florida FL, and Tennessee TN. If you would like information about the opportunities available in these markets please contact us so we can discuss a varied array of expansion platforms from individual store franchises to multi unit master franchising contracts. We would like to discuss opportunities to get you involved in this business or industry.
This is the opportunity that you have been looking for. A dynamic concept in an explosive industry with minimal competition and fantastic growth potential!Do you currently own and operate a mulit-unit food service operation with the infrastructure to develop and support a multi-unit franchise system?
This is a perfect opportunity for multi-unit operators of other concepts to take on the role of a franchisor.