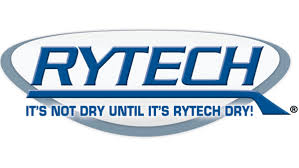 Rytech - a Recession-Proof Investment in a $60 Billion Industry.
Two Proven Business Models
This proven business concept has been successful though two models:
An active hands-on Owner/Operator starting out with one service vehicle and scaling their business over time through the addition of staff, vehicles and equipment as through market share growth.
Experienced business professionals whose objective is to manage a service business with multiple employees, and an experienced Operations Manager. The Operations Manager is responsible for overseeing the day to day business activities on behalf of the owner.
All owners and other key personnel will complete the Rytech business and technical training program which will include water mitigation professional certifications.

The Industry Served
Water damage is the highest frequency claim type that property insurers settle annually. Water losses originate from a number of sources: windstorms, fires, tornadoes, appliance failures, burst pipes, faulty workmanship, leaking water heaters, broken pipes, washer hoses, dish washers hoses/lines, water lines to refrigerators, air conditioning pans, rain storms, flash floods, storm water back up, overflowing baths, toilets, sinks, sump pumps, manufacturer defects, and more.
In addition to Rytech Core water restoration and structural drying services, mold remediation is a high demand service for all Rytech franchisees. Mold remediation and all other structural drying services are performed by IICRC Certified Technicians using state-of-the-art equipment. Due to requests by some insurance carriers, some Rytech Offices have chosen to offer full Insurance repair services, including light fire, smoke and odor clean-up and contents restoration.
The Opportunity
Our unique centralized business model permits the Rytech Franchisees to focus on performing each of their water mitigation and related drying services in a technically competent and professional manner enabling the franchisee to secure local brand presence without the burden of typical administrative management responsibilities. We offer:
Unique business model
Recession resistant industry. All water losses need immediate service regardless of the economy
Essential emergency water damages services that require little or no "selling" to property owners
Mold remediation, for health and mental well-being.
Provides exclusive territories starting with a 400,000-population base
Corporate marketing staff for developing new, and maintaining current Carrier relationships
Regional and national accounts with carriers, Third Party organizations and other business channels
Exclusive Administrative Center which provides a full range of "front and back office services"
Affords financial freedom through a single and multi-unit growth

Our Ideal Candidate
Our ideal franchisee is an experienced business or service professional with good interpersonal skills, comfortable working with other business professionals who assist the property owners of residential and commercial structures who have experienced an insured loss. No background in water mitigation, mold remediation, or construction is required.