MOOYAH Burgers, Fries & Shakes has a fresh, fun, and vibrant atmosphere with excellent Guest service and a contagious amount of energy. The menu is as simple as it gets, focusing on burgers, fries, and to satisfy the occasional sweet tooth, thick and frosty shakes. Every MOOYAH burger is made to order with 100% fresh American beef and freshly baked in-house buns. From the moment the Guests enter the door, their five senses are overwhelmed with the "MOOYAH" experience.
MOOYAH will never be all things to all people. Instead, we're a celebration of all things burger. Because even if you can't quite explain it, you'll know it when you take that first bite. MOOYAH burgers are just better. And that's just what we're going for.
MOOYAH is an entire company doing the right thing for the right reason and working hard each day to lead by example one burger, one French fry and one drink at a time.
The Foundation
You love burgers. Can't live without fries. And always need to wash both down with a shake.

You own a few other restaurants. Or you own another business. Maybe you just really love MOOYAH.

You really like people, you know the ones that will come to your restaurant – we call them Guests. You have to love them, want to get to know them and be involved with them in the community.

You're dedicated to running the best restaurant ever – period.

You want to grow with MOOYAH – that means opening not just one or even two restaurants.

You have a minimum net worth of approximately $500,000 and minimum liquid cash of approximately $200,000.

You know what you're doing or at least you're willing to learn from us.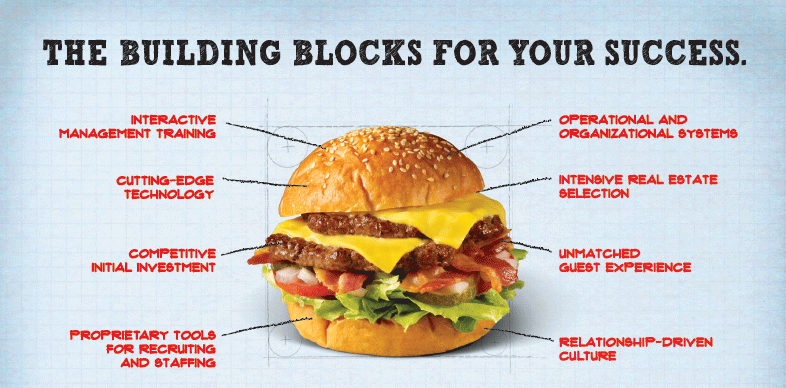 Frequently Asked Questions
What makes MOOYAH different?
It's simple. The people and the experience.

What is the initial investment for a MOOYAH franchise?
The initial cost of a MOOYAH franchise ranges from $318,825 - $514,520 which pays for build-out expenses and certain start-up expenses. Part of this investment is the initial franchise fee, which is $30,000.
What are the site requirements for a MOOYAH restaurant?
1,800-2,400 Square Feet

Visibility and Access

High Traffic Areas with Above Average Demographics
What is the term of the franchise agreement? 10 Years (With 2 Five-Year Options)

What is the availability for opportunities in my area?
We'll need to double-check – the word is spreading about us, so we're currently applying for registration throughout the U.S.
Welcome to the world of MOOYAH, a culture at ease with itself as keepers of the great American meal: masters of the burger, owners of the French fry, crafters of the shake.