Are You Ready to Own a Great Bagel Business?
Keystone Bagels is a business where the bagels make the difference: fresh bagels, made daily, in full view of your customers!
Your menu will be full of a variety of delicious, satisfying, wholesome food ready to serve those who dine-in, or order online for pick up or delivery. Plus, you'll cater larger events in your community because your customers will know they can count on you and your team for great service.
Get Ready to Transform Your Future
• Become a Small Business Owner: Lead a team to serve and delight every customer who walks in the door, while engaging with your community as a local business owner.
• Give Back to Your Community: With the Keystone Bagels Adopt-a-Hero program, you'll have the opportunity to support causes you care about.
• Be in Business for Yourself, but never by yourself. That's the advantage of joining the Keystone Bagels franchise family!
We are so excited to expand the Keystone Bagels brand by offering franchises to business builders like you.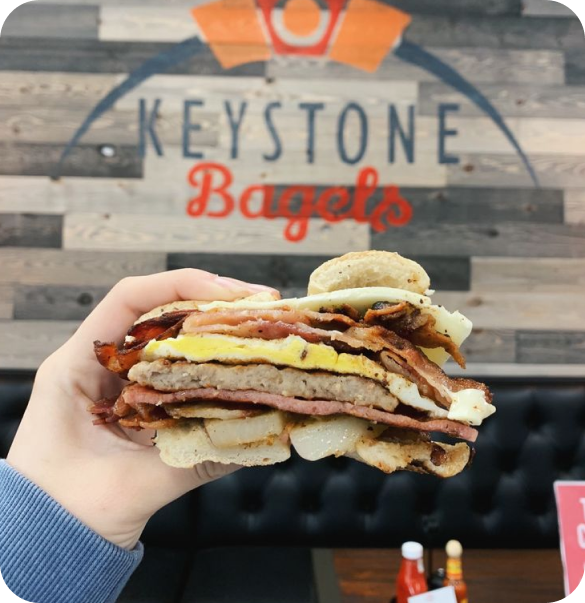 Keystone Bagels founders Laura and James Drury traveled all the way from the United Kingdom to build their dream of business ownership in the United States. Together, they took over a dated bagel concept and turned it into the thriving business it is today based on fresh, quality ingredients, and good old-fashioned community charm.
That's what customers feel when they come in the shop. Warm and welcome.
Both former members of the British Army, Laura and James pride themselves on giving back to the community around them. Now, they look forward to serving Keystone Bagels franchise owners as well, as they begin their own journeys of business ownership.
BEFORE YOUR VERY EYES
With our huge bakery windows, you can see the full process of your bagels being made from yeast to bagel.
Come watch our well trained bakers MIX, FORM and finally BAKE your bagel.
Here are more advantages for YOU as a business owner:
You can leverage an established QSR franchise operating model designed to bring people in the door
You get to be your own boss
You receive ample training and support to grow your business, learning from leaders who know every aspect of the business
You can give back to your community by following our lead – what a rewarding way to make a living!