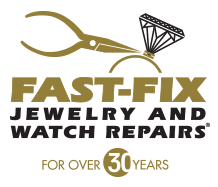 NOW IS A GREAT TIME TO START YOUR JEWELRY AND WATCH REPAIR FRANCHISE
Jewelry and watch repair are a year-round, multi-billion-dollar business. There is an on-going demand for ring sizing, watch battery replacement, repair of damaged chains, engraving, eyeglass frame repairs and so much more. Fast-Fix Jewelry and Watch Repairs® is the only worldwide chain of stores dedicated to serving the growing demand of these services.
As a Fast-Fix Franchise Owner you can enjoy all the satisfaction in ownership of a proven, seasoned business as well as the experienced support you will receive. Together with your determination and energy, we can provide you with the training and support programs for you to attain your goals.
Founded in 1984, Fast-Fix Jewelry and Watch Repairs® has been a recognized industry leader and consumer choice for more than 30 years. As a result of our solid reputation, growth, and accomplishments, we have been named a top franchise in many publications, including:
Entrepreneur Magazine's Top Franchises for Veterans in 2020
Franchise Times' Top 200+ Franchises in 2020


Our stores operate in major regional malls and shopping centers where high visibility and high traffic combined create a proven sales-generating atmosphere. Consistent with today's "I want it now" society, Fast-Fix performs jewelry repairs on most items immediately. The convenience of offering same day turnaround and locations in malls, provides Fast-Fix Jewelry and Watch Repairs® stores with word-of-mouth referrals, repeat customers and work from other jewelers.

WHY YOU'LL LOVE US
When you are successful, we are successful. From the moment you sign with us, we are available to help you on your journey to building a thriving business. It begins with our dedicated corporate team, and continues with exclusive trainings, great mentoring, bold visual marketing, and state-of-the-art technology. Franchisees benefit from and have access to:
ONGOING SUPPORT:
Franchise Business Coaches
Marketing and advertising support
24/7 web-based support
Real Estate support
On-site store visits
Ongoing operational support and more
TECHNOLOGY:
System-wide intranet (Franchisees-only portal)
POS system specifically created for service based retail stores
VETERAN INCENTIVES:
You served your country. Fast-Fix Jewelry and Watch Repairs® would like to thank our veterans who choose to become a franchisee with special incentives to help you get started. To learn more, complete our contact form on our website (FastFix.com/Franchise) or call (800) 359-0407.
WHY WE WILL LOVE YOU
You are motivated and ready to succeed as a business owner.
You are interested in offering a valued service to your community.
You see the value in an internet and recession resistent business.
You want the opportunity to be your own boss!

START YOUR FAST-FIX FRANCHISE JOURNEY TODAY!
The best reasons a Fast-Fix franchise might be right for you are:
35+ years of Franchise Success
NO National Competition
NO managing and maintaining costly inventory
PRIME franchise availability nationwide in both established and new territories
NO jewelry or watch repair experience necessary
We make it EASY to get started
FRANCHISE SUCCESS STORIES
At Fast-Fix Jewelry and Watch Repairs® you can become part of a unique opportunity. An opportunity that provides an important service to customers while allowing you to fulfill your career goals. You don't have to be a jeweler or have any jewelry experience to succeed. Our successful Fast-Fix owners come from a variety of backgrounds.
This is their story. And we hope it will one day become your story too.
"To me, the Fast-Fix company is like a big family. Everyone is very open, we share stories, support each other, and refer customers. For example, if a customer is moving, we will refer them to a franchisee in their new location." - Tranganh Nguyen, CA. Single mother of four, among top performing franchisees.
"This may sound trite, but I truly feel like I am making a difference in someone's life, every day. I hear customers say, "Oh my gosh! I didn't think that could be fixed. Thank you so much!" It might sound crazy but fixing a piece of jewelry or a watch can bring so much joy to a person's life. That is why we do what we do and it is such a great feeling." – Don Johnson, AZ. Made the jump to becoming a Fast-Fix franchisee after 20 years in sales/marketing.
"We have a lot of loyal customers who keep coming back or telling their friends about our services; I always say, if you can break it, we can fix it. I like the kiosk because I can see people coming in all directions and they can see me working on their piece, plus it is a great way to get people's attention as they walk by and talk to them about our services." – Steven James, FL. Military veteran who turned his passion into franchise success.

To learn more complete our contact form or call (800) 359-0407.
https://www.facebook.com/fastfixfranchise
https://www.instagram.com/fastfixfranchise/