About Dog Haus
Dog Haus is a craft casual hot dog concept known for its gourmet hot dogs, sausages, burgers and a one of a kind fried chicken sandwich. Founded by partners Hagop Giragossian, Quasim Riaz, and André Vener, three friends who share a passion for good food, creativity, quality, and commitment to community, the first Dog Haus opened in Pasadena, California in 2010.

Dog Haus has garnered critical acclaim and national attention for its signature hot dogs, handcrafted sausages and burgers made from certified humanly-raised, hormone & antibiotic free Creekstone Farms Natural Premium Black Angus, to Premium Idaho Duroc Heritage pork hormone -and antibiotic free, and vegetarian fed chicken and turkey. All dogs, sausages, burgers and the fried chicken sandwich are served on a grilled King's Hawaiian roll.
Guests can choose from signature Haus creations and chase it down, with a local craft beer, finishing their meal on a sweet note with premium shakes or soft-serve ice cream. With the brand's mission to sustainably feed everyone who walks through their doors, Dog Haus offers plant-based protein options from Impossible™ Food and Beyond Meat™. As a brand who gives back, Dog Haus established an ongoing partnership with No Kid Hungry to help end childhood hunger, by partnering with industry-leading chefs and mixologist to bring culinary innovation through LTO offerings.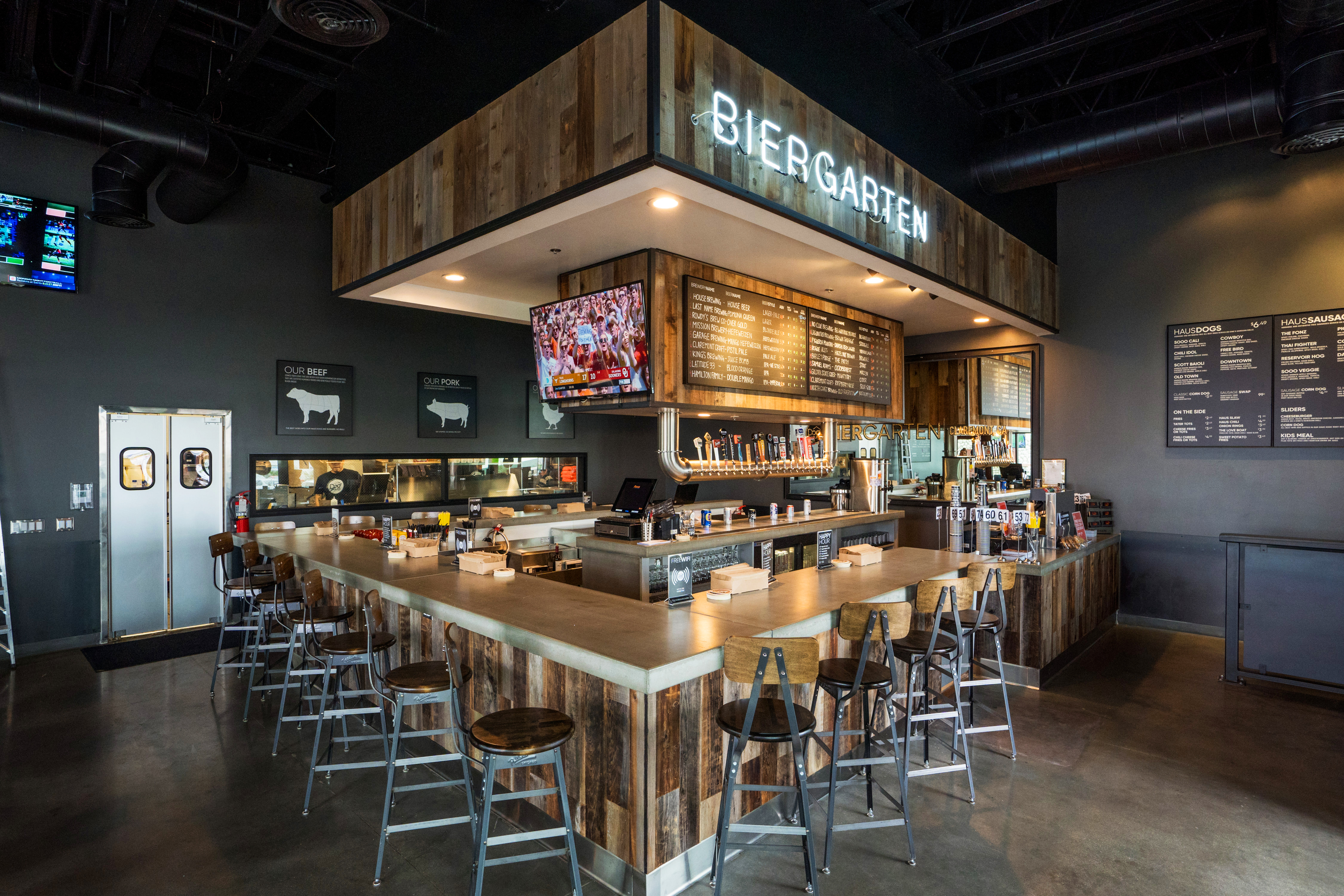 Craft Casual
In less than 9 years, we've gone from an idea to more than 30 open locations, over 130 franchises sold in 13 states, national acclaim, and the best guests a restaurant could dream of. The first Dog Haus opened in October 2010 with a vision of making hot dogs, sausages, and burgers that were more than just food. From the start, people loved Dog Haus. Demand was so strong we opened a second location a year later and a third six months after that. Dog Haus isn't fast food or fast-casual: it's Craft Casual, a category we created that's catching on across the industry. Our quality ingredients, made to order items and fun welcoming environment target a different pattern of consumption from fast food. At Dog Haus, people linger to enjoy the experience of dining, relishing the laid-back atmosphere, which makes us a breakout brand rapidly expanding across the U.S.
Franchise Overview
MINIMUM FINANCIAL REQUIREMENTS
Opening a Dog Haus franchise requires investing your time, expertise, passion and finances. Dog Haus Franchisees finance their operations through a variety of means. Multi-unit franchisees should have cash, assets and net worth exceeding $1,000,000.
Average estimated cost of opening a Dog Haus: low of $378,000 to high $543,900, which includes the franchise fee
Average estimated cost of opening a Dog Haus Biergarten: low of $569,000 to a high of $949,100, which includes the franchise fee
EXPERIENCE
Minimal 3-5 years of franchise, restaurant, or business ownership required.
If not, your Operating Partner must have restaurant operations experience.
Experienced multi-unit franchisee looking to expand their current portfolio strongly preferred
FRANCHISE FEES AND ROYALTIES
Franchise Fee: $35,000 for first restaurant, and a deposit of $17,500 for each additional location
$17,500 balance for each additional location payable upon signing of each location's lease
6% royalties
2% creative, marketing & technology fund
1% local marketing - Self Administered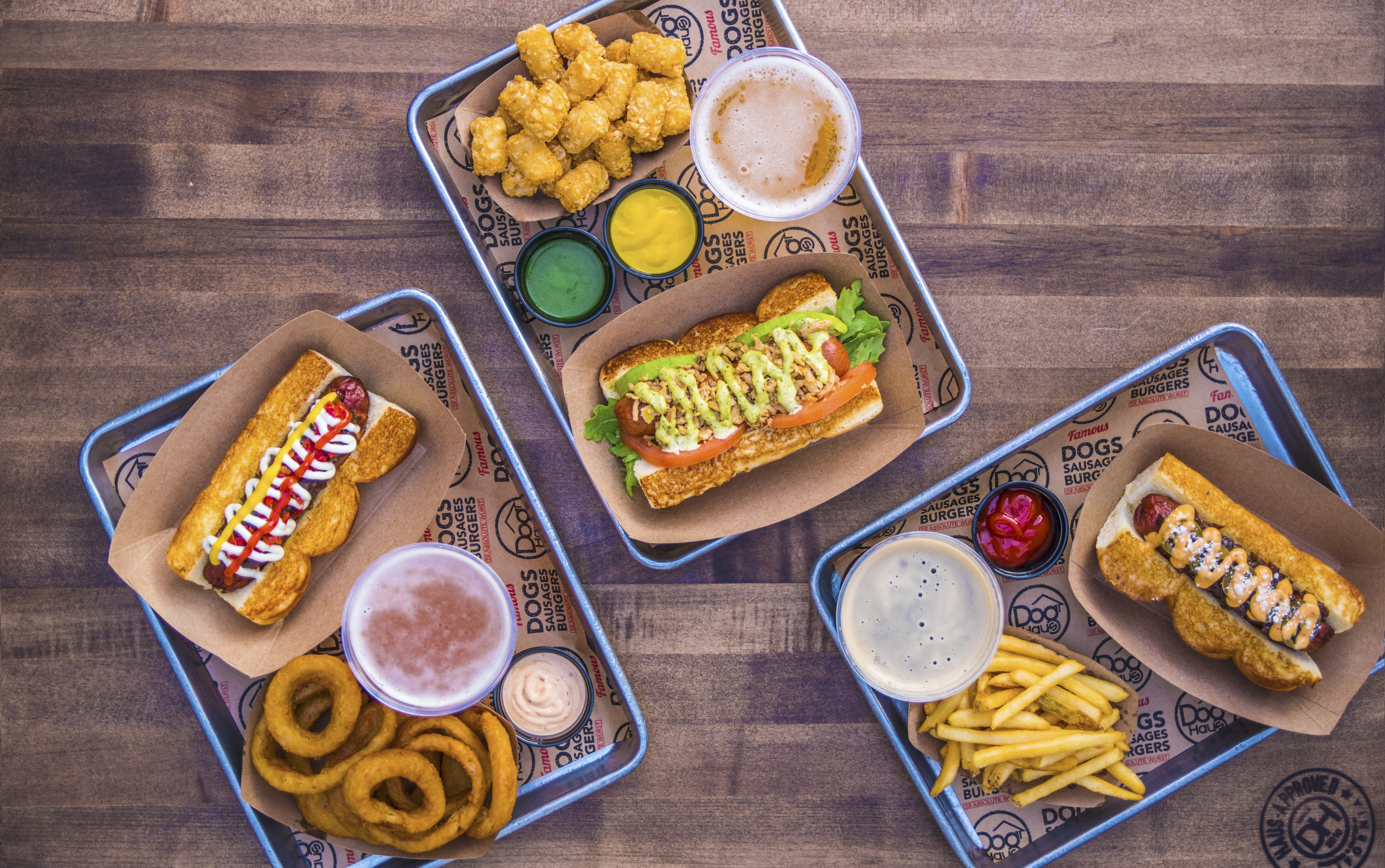 SITE SPECIFICS
Dog Haus
1,300-1,600 square feet
Stand alone, in-line, end cap
Location specific design
Communal tables
4-6 taps
Custom playlist
Dog Haus Biergarten
1,800-2,500 square feet
Stand alone, in-line, end cap
Location specific design
Communal tables
8 seat Bar
Large Patio
TVs
Dog Haus TV
Glassware
20 beer taps
2 wine taps
Custom playlist
TERMS OF FRANCHISE AGREEMENT
Franchise Training
4 weeks training at our Pasadena headquarters and a designated Dog Haus location
12 days on site training/support for 5 days before, through your grand opening weekend, and 5 days after
Post opening support is available by request for an additional fee
Site Requirements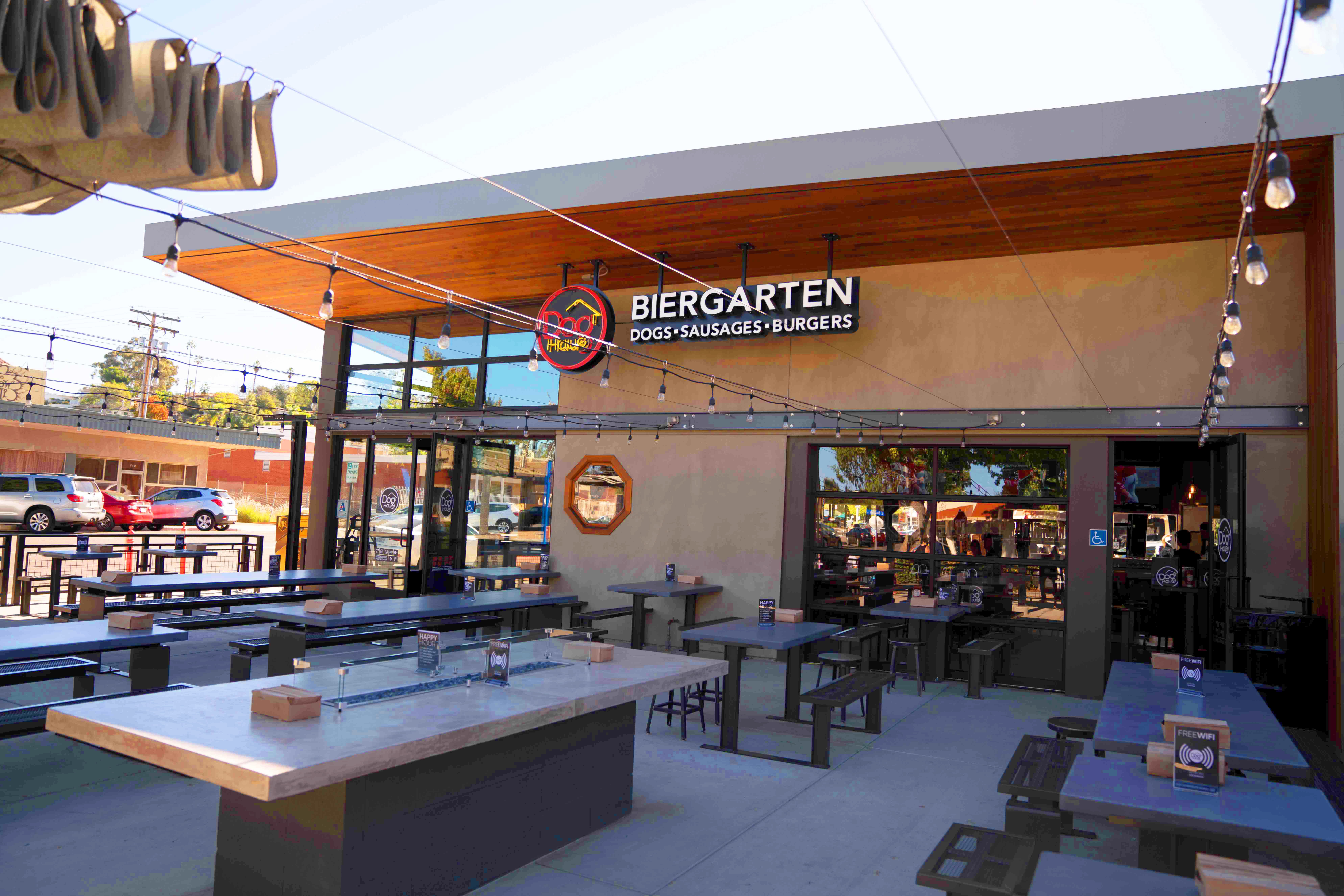 SIZE REQUIREMENTS
Dog Haus: 1,300-1,800 square feet
Dog Haus Biergarten: 1,800-2,500 square feet
PREFERRED LOCATIONS
Freestanding
Urban Storefronts
Shopping Centers (end-caps & pads)
Lifestyle Centers
Entertainment Centers
Mixed Use Projects (retail, residential, office)
University Adjacent
Co-tenancy to include grocery centers, regional shopping centers, theaters, community centers, other food.