ABOUT US
Benjamin Aeby, the founder and owner of Box Painting, is a Veteran, serving in the U.S. Army from 2003-2008. He currently resides in Salem, Oregon, and is a proud dad to two amazing children, Payton and Benjamin.
Benjamin has worked on over 1,000
home improvement projects over
the past 20 years. The diversity of projects he's worked on has given him the ability to understand customer needs on a very deep level and give you peace of mind. You're in good hands with Box Painting.
IT IS BOX PAINTING'S MISSION TO TAKE HOME IMPROVEMENT SERIOUSLY. OUR NUMBER ONE GOAL IS TO DELIVER AN EXCELLENT FINISHED PRODUCT WHILE PROVIDING THE BEST CUSTOMER SERVICE EXPERIENCE YOU'VE EVER HAD WITH A CONTRACTOR.
OUR GUARANTEE
Each project we complete is covered by our standard guarantee of quality of 5 years, which includes full coverage of materials and labor costs. If our work doesn't hold up for this period of time, it's on us - we'll come out and fix it free of charge.

As a Box Painting Franchise our gaurantee is a healthy work-life balance, with a no-working weekends policy. We cherish quality time with
family and friends, and encourage our team in infinding a balance between professional and personal life.

WHAT WE OFFER
RESIDENTIAL SERVICES
Box Painting offers exterior painting, interior painting, deck coating, and wood repair services for a range of different style homes in Oregon.
Our process starts with prep work, which typically includes a full power wash, scraping away loose paint, feather sanding areas where needed, priming bare wood and caulking any cracks where moisture could potentially damage your home.
Box Painting provides the following residential services:
• Exterior painting (repaints and
new construction)
• Interior painting and finish work
• Deck coatings
• Siding and trim repair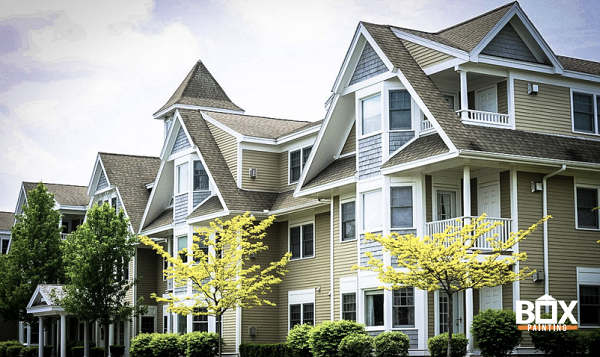 COMMERCIAL SERVICES

Box Painting is fully equipped to handle your HOA / Multi-Family, Commercial, or Apartment community maintenance and improvement needs.
Box Painting provides the following commercial services:
• Exterior painting
• Deck coatings
• Siding and trim repair