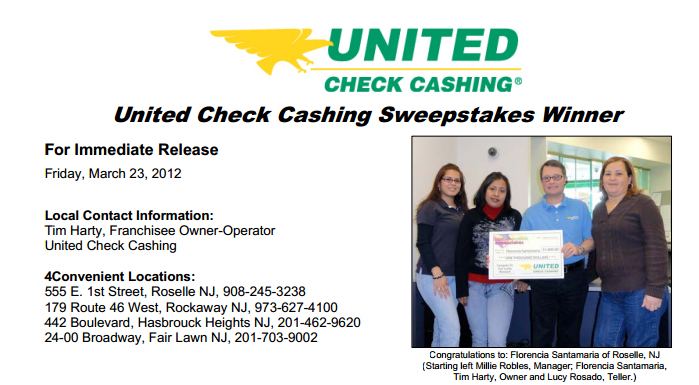 [Roselle, NJ] – At a time when the economy is forcing many consumers to postpone spending, United
Check Cashing of Roselle New Jersey is offering to share a little delight by giving their customer's a chance
to win cash prizes through the annual United "Cash-n-Scratch" Sweepstakes. Many of our customers have
won a range of cash prizes ranging from $1-$1,000. Harty commented, "Florencia has won the grand prize
in our nationwide contest, we are happy to share in her excitement. She has been coming to United to cash
her payroll check every Friday for the past ten years; the prize couldn't have gone to a better customer!" She
was in utter shock when she revealed the grand prize saying, "I have never won anything, not even a dollar
in my entire life!"
Tim Harty, franchisee of four United Check Cashing locations in New Jersey, gives back to the community all
year round. Over the years Harty has really focused on exceptional customer service and building a bonded
relationship with his customers. He has received several honorable awards for maintaining a high level of
operational excellence, high sales volume, and superior customer service. Harty stated, "Our commitment to
improving our community and the quality of products and services we provide to our customers really sets us
apart from our competition."
United Check Cashing stores provide fast, friendly financial services as a safe, viable alternative to banks.
They cash checks, predominately payroll, for only a few cents on the dollar. They also offer money orders,
utility bill payments, Western Union money transfers, pre-paid home, cellular and long-distance phone
services, tax preparation and e-filing, copies, fax, and much more. United Check Cashing stores are
independently owned and operated franchises. With United, consumers truly have a real alternative when it
comes to accessing their cash or managing their money.
For more information, please contact Tim Harty, at United Check Cashing, 973-476-5303. ###
Congratulations to: Florencia Santamaria of Roselle, NJ
(Starting left Millie Robles, Manager; Florencia Santamaria,
Tim Harty, Owner and Lucy Rosado, Teller.)