BURBANK, Calif.—The Minuteman Press franchise in Burbank has been recognized by the Printing Industries Association, Inc. of Southern California, winning two prestigious PIASC Print Excellence Awards: The PIASC 2016 Award of Excellence and the PIASC 2016 Best of Category award..

"We are thrilled to receive these two incredible awards from the PIASC," said George Sagadencky, owner, Minuteman Press in Burbank. He added, "We take so much pride in our work and it feels great to be recognized by an organization like PIASC that is so respected and highly regarded in Southern California."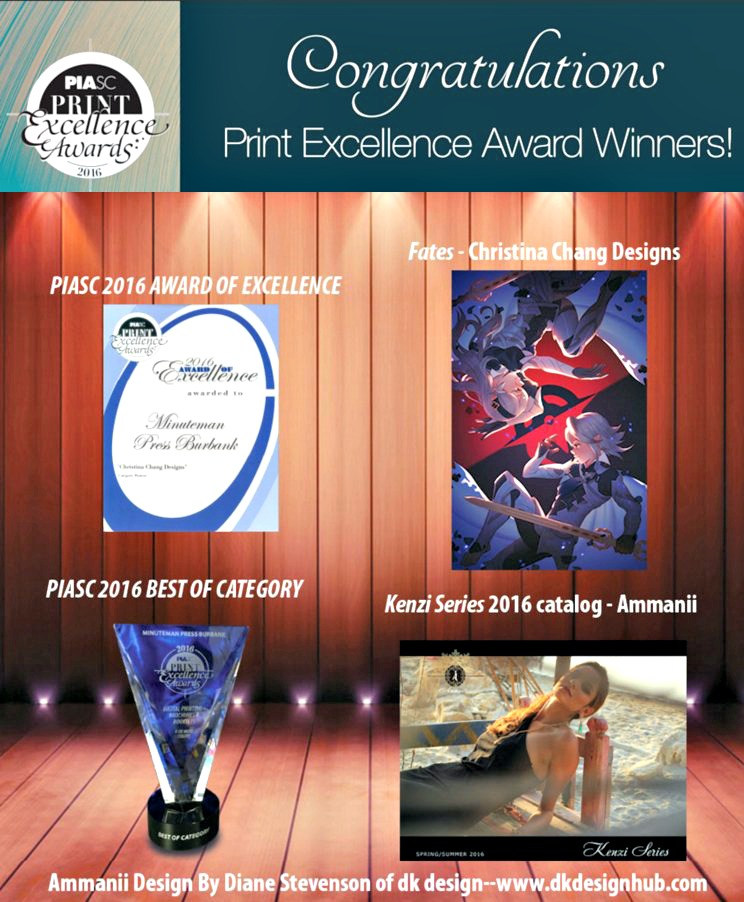 For the winning poster – Fates – that scored the PIASC 2016 Award of Excellence, Minuteman Press in Burbank teamed up with Christina Chang Designs. The PIASC 2016 Best of Category Award was given to Minuteman Press Burbank for the Kenzi Series 2016 catalog – Ammanii – that was designed by Diane Stevenson of dk design.

"I'd like to congratulate George Sagadencky and his team for winning two great printing awards," said Dan Byers, Minuteman Press International Regional Vice President for Southern California. He continued, "As these PIASC awards indicate, the Minuteman Press staff in Burbank provides high quality products and services to their clients, and George is a terrific business leader as well as an exemplary franchise owner."

For more information on George Sagadencky's award-winning Minuteman Press printing franchise in Burbank, California, call (818) 846-0247 or visit their website: http://mmpburbank.com.
About Minuteman Press
Serving the business community for over 40 years, Minuteman Press' customer service driven business model provides digital print, design and promotional products and services to businesses from concept review through to completion. Today we are much more than just print; we can provide anything you can put a name, image or logo on! Our new slogan – We Design, Print & Promote… YOU! – indicates the wide variety of products and services we offer that go beyond printing. For more information about our products and services or to find your local Minuteman Press, visit www.minutemanpress.com.
About Minuteman Press International
Minuteman Press International is a number one rated business service franchise that offers world class training and unparalleled ongoing local support. Started in 1973 by Roy Titus and his son Bob, Minuteman Press began franchising in 1975 and has grown to over 930 locations worldwide including the U.S., Australia, Canada, South Africa, and the United Kingdom. Minuteman Press has been rated #1 in category 24 times by Entrepreneur and 12 times in a row, including 2016. Prior experience is not necessary to own and operate a successful Minuteman Press franchise.
Learn more about Minuteman Press franchise opportunities at www.minutemanpressfranchise.com.